j
On the 19thof May 2018, about 60 meters above Norwegian soil, the gigantic X Games sign is visible for all to see. The inhabitants of Oslo marvel as the awesome setup takes shape on the site of their old airport. With the sun shining and temperatures above 25 degrees they still managed to make real snow to cover the BigAir approach, the terrifying 16 meter kicker and the gigantic run out area!  Right next to the enormous kicker two Swedish Streetdiving athletes, Daniel Arvidsonn and Niklas Müller were homing their flying skills from 22 meters into the gigantic BigAirBag. Daniel told us he was trying to make his Freefall look like it all went wrong, only to miraculously turn it round in the last second and safe! It looked like he was walking in the air, although he was still falling – Breathtaking stuff! Daniel was using this opportunity to prepare for the up and coming StreetDiving competition in The Netherlands on the 16thof June.
j
Watching the Swedish athletes go crazy on the BigAirBag, the adrenaline pumped riders could not resist having a go themselves. James Woodsy, who normally lands triple corks on his feet, now had to fall on his back. "It's so scary to land on your back, but so much fun!", he said. Birk Ruud wanted to be thrown in, so they grabbed his arms and legs and on the count of three they let him loose into the official StreetDiving REVOLUTION BigAirBag.
Some of the other riders explained how they had to adapt to the inner city setup and how they missed the usual mountainous surroundings.  Birk Ruud joined the X games as a rookie, but experienced no trouble at all with the Norwegian home crowd to support him. His spectacular double cork 1620 mute was enough to bring X games Gold to Norway! Meanwhile Anna Gasser and Julia Marino landed Double-Underflip-cabs and Kokomo Murase stomped the first ever Double Cork 1260 by a woman in competition. And you know what? She is only 13 years old!
elk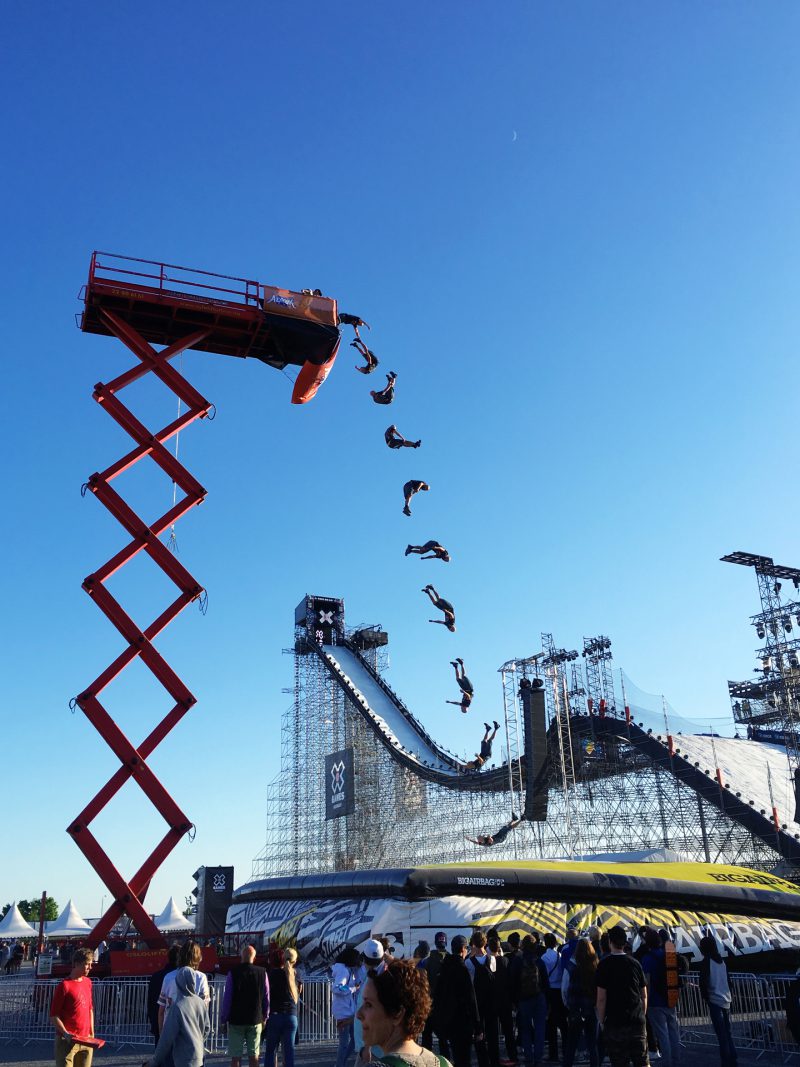 Next to Freefalling in the BigAirBag REVOLUTION spectators could do some extreme sports themselves. At the Altitude Trampoline park kids could jump, practice and have a lot of fun. It was really cool to watch that setup as well, because Greg Roe's team was there to show the audience what trampolining is all about.
Congratulations to Jennie Lee Burmansson, Kokomo Murase, Ruud Birk and Takeru Otsuka for winning the X games Oslo 2018 in Skiing and Snowboarding.
On 16thof June more then 20 athletes will show off their tricks in front of a Jury. The winner will walk away with €1.000.-. Make sure you don't miss out and be sure to visit us at the GameDay in Den Helder.
For more information about the GameDay click here.